Expert Water Intrusion Repairs and Leak Investigations
Leak detection is our specialty
HOA Service's expertise in multi-family residential and commercial properties ensures that you have a partner that understands that even a small leak can mean a huge undertaking when multiple stakeholders are involved. Our leak investigation service documents each step of the process so that you receive the information needed to proceed with repairs.
Get to the source of the leak with our water intrusion investigation service. Leak investigation documentation and estimates are often provided to property managers, owners, HOA Boards, residents, and tenants.
When it's time for repairs, we manage the entire water intrusion repair process and can repair the source of the leak, any damage to your buildings structure, building envelope, or interior. Our technicians are skilled, efficient, and professional so you know that your repairs will last for years to come and extend the life of your building.
Leak Investigations to Determine the Root Cause
When water intrusion is discovered, determining the source of the leak is the top priority.  
Our leak investigation experts begin with a water intrusion test to see if surface moisture levels indicate an active leak. Active leaks must be mitigated, and the area dried out before the water intrusion damage can be repaired. Sometimes this can mean removing or cutting into building materials to expose the leak.
Continuing the Leak Investigation
In this case, the leak has affected the ceiling of this bathroom and the drywall has to be removed so the repair technician can document the source of the leak.
The technician cuts open the drywall and documents the condition of the wallboard before removing it. Underneath the wallboard discolored insulation indicates the area has been exposed to moisture.
Next, the technician will remove the insulation and dispose of it, exposing the source of the leak.
Moisture Test
Using a meter, technicians check the ceiling for moisture. In this case, the drywall must be cut open to find the source of the leak.
Before Work Begins
The technician takes a "before" photo documenting the work area before the investigation begins.
Preparing the Work Area
Our experienced technician protects the room from consequential damage by fully covering and masking the rest of the room.
Detecting the Source
The source of this ceiling leak is a broken pipe seal from the floor above. In this case, the leak investigation has revealed that another unit in this building is involved.
In this instance, the area is temporarily patched until repairs can be scheduled.
The work area is cleaned and all debris has been removed and disposed of.
Leak Investigation Documentation and Repair Estimate
Once the investigation has been completed, we provide an estimate for repair along with documentation of the findings. Estimates can include all the information you need to provide to stakeholders before deciding on a course of action.
Water intrusion repairs can address the source of the leak, damage to the exterior siding, damage to the building envelope, structural damage, and interior damage which can include insulation, walls, ceilings, floors, trim, and cabinetry. Throughout the repair process, our experts determine the scope and extent of the repairs and which materials will deliver the best results for your property. We include this documentation in our estimating process so you can provide details to all stakeholders and make the best decision for your property.
When a leak is active, all areas that need repair must first be dry. During the rainy months, this can mean a temporary patch repair to the source of the leak until things dry out or we can build a temporary structure to complete the repair in inclement weather. In most cases, once the area is dry, repairs can be scheduled.
This multi-family residential condominium complex required extensive repairs from water infiltration. Water intrusion repairs to the interior floor, exterior deck and structural elements of the building were completed once the work area was dry.
Our repair technicians followed our repair protocol that guarantees your siding repair will last for years:
This exterior storage area had a leaky roof causing extensive water damage to the structure and siding. 
Once the work area dried out, the repair technician began to remove the damaged siding, posts, decking, and rails.
All the affected areas were repaired and new WRB ensures a dry interior.
New flashing, siding and trim are added to match the current building materials.
Hardware was installed, the roof tiles replaced, fresh paint and deck stain were matched to the existing products. This exterior storage area looks as good as new.
We deliver quality repairs for a single unit or our experienced crews can make property-wide water intrusion repairs.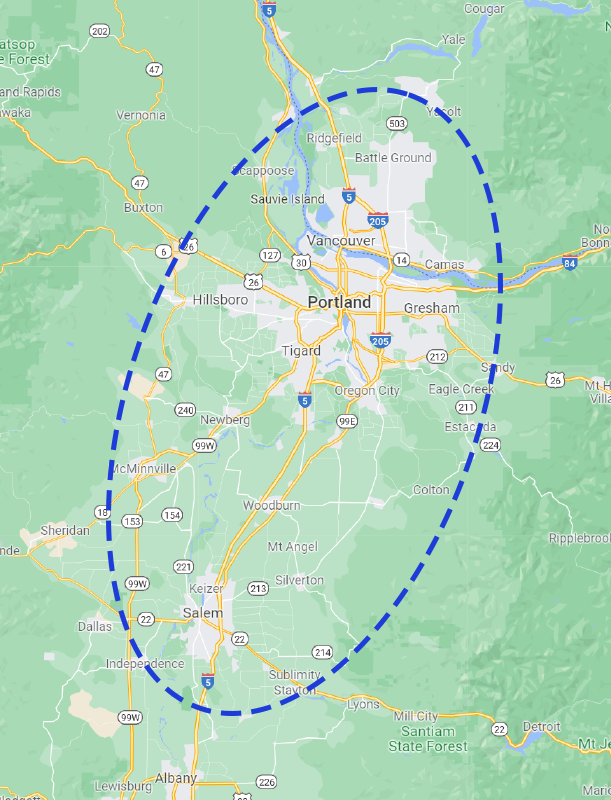 Proudly Serving the Portland Metro Area
We provide construction services in both Oregon and Southwest Washington state. Our coverage extends out from the Portland, Oregon metropolitan area to include Salem, Vancouver, Hillsboro, and Gresham, Oregon
We show up when you need us, and we document all our work so you can have peace of mind
Our pros know property services so we can spot hazards and prevent consequential damage
We build partnerships to last by exceeding your expectations on each visit
Comprehensive Maintenance Services
Get An Estimate For Water Intrusion Repairs and Leak Investigation
Whether you need single leak investigation, or property-wide water intrusion repairs, our pros will deliver a solution that will meet your property's unique needs. Request a free estimate today!
Drop us a line today
for a proposal!
Drop us a line today
for a proposal!
Kudos to the team [Janitorial] on doing a great job at being the eyes and ears for [us] and notifying us of issues that violate tenant covenants.  Thank you for your continued effort and teamwork in managing our centers.
Wanted to send along a note on how happy we have been with Nonie [Janitorial Division].  She was trained for our building by Lisa and that set a very high bar but she has been wonderful to have around and is very thorough.  Thanks for sending her our way!
HOA Services makes my life as a community manager so much easier. They are a one-stop shop for all maintenance needs. The response time is impeccable, and in most cases is immediate. If a request is out of their wheelhouse, they will let me know very quickly and also provide advice on the correct type of vendor to contact. Eric Doyle has been especially helpful in creating healthy relationships with many of my communities, and providing practical feedback for long-term planning.
HOA Services performs regular janitorial service at one of my large condominiums, and provides immediate feedback when issues are found. The keen eye for detail all technicians have is very helpful. HOA Services has worked on my entire portfolio, form roof cleaning, dump runs, gutter cleaning, and dryer vent cleaning, without any complaints. My homeowners always say the crew is very respectful and courteous.