Parking Lot Maintenance Services
in Portland
Maximize Your Pavement Life to Last For Years
A well maintained parking lot offers remarkably more than casual curb appeal. From consumer experience to overhead costs, there are countless reasons to utilize parking lot maintenance services and elevate the experience of those using your lot.
In the PNW, harsh weather conditions can cause wear and tear, but the quicker they're addressed, the less of an issue they become. Full services grounds care can aid in preserving your property and reducing costs in the long run.
At HOA, we work diligently to help you maintain the impeccable condition of your parking lots for many years to
The Importance of Routine Parking Lot Maintenance
Saves You Money in the Long Run
Curtail costs with conscientious, custom care from a distinguished parking
Extends the Life of Your Lot for Years
Prevention is preferable to intervention– stay ahead of the game with full service
Increases Driving Stability and Comfort
Smoother roads and more comfort for your customers and employees
Our Parking Lot Cleaning and Maintenance Services 
Fixing Potholes
Potholes can be problematic in many ways. Depending on the severity of impact, potholes can cause alignment problems, bent wheel rims, and shock issues. Protect your parking lot patrons and yourself by fixing potholes before they cause significant damage. Beyond fixing potholes, we also provide seal coating, crack sealing, crack filling, asphalt crack repair, and hot patch services for small areas only.
Sweeping and Cleaning
With all the use your parking lot receives, dirt and debris can accumulate quickly. Regular sweeping and cleaning will keep your parking lot cleaning costs low with regular debris removal, erosion prevention, and parking lot drain cleaning, all while strengthening the integrity and allure of your parking lot.
Washing
While different from sweeping and cleaning, washing your parking lot is incredibly important as well. From long, wet winters to bustling, hot summers, parking lots accrue tons of dirt and grime, and the appearance of your grounds are likely to leave an impression on your patrons. Routine pressure washing of your parking lot will provide longevity to your pavement and satisfaction to your patrons.
Striping & Stenciling
One of the best things about parking lot line striping and stenciling is that it provides a fast, cost-effective option for revitalizing your parking lot and preserving that new lot look. To ensure your markings remain clear and visible, your parking lot striping and stenciling needs to be refreshed every so often. Connect with us to see how line striping and stenciling can elevate your parking lot today.
Inclement Weather
While we provide parking lot cleaning year round, winters in the PNW may present specific complications. Rain and snow can further disperse dirt and debris, and piles of ice and snow may impede your patrons. Prevent health and safety hazards with our winterization services. During winter months, we deploy our services automatically to pre-arranged clients, so contact us today to set up your winter parking lot cleaning routine.
Curbs and Bollards Installation and Repair
Curbs and bollards enhance your parking lot by improving traffic management, marking boundaries, promoting pedestrian safety, providing security related measures and more. Our parking lot maintenance services aid in installing and repairing curbs and bollards, upgrading the aesthetic and experience of your parking lot.
Parking lot maintenance services can be scheduled on demand or provided routinely. We highly encourage routine parking lot cleaning as scheduled maintenance will decrease overall parking lot cleaning costs and elongate the lifespan of your lot. For example, services like parking lot drain cleaning, debris removal, and small area concrete repair, when conducted routinely, can prevent larger issues down the line like flooding and asphalt cracks.
We understand that all properties are different and every season in the PNW comes with its own particular set of obstacles. To address these factors, our account executives work with you to create a fully customized suite of services, on a unique timetable to best serve you and your business. After getting to know your property and its needs, we will even let you know when it is time again to complete routine maintenance, streamlining property maintenance for you and your business.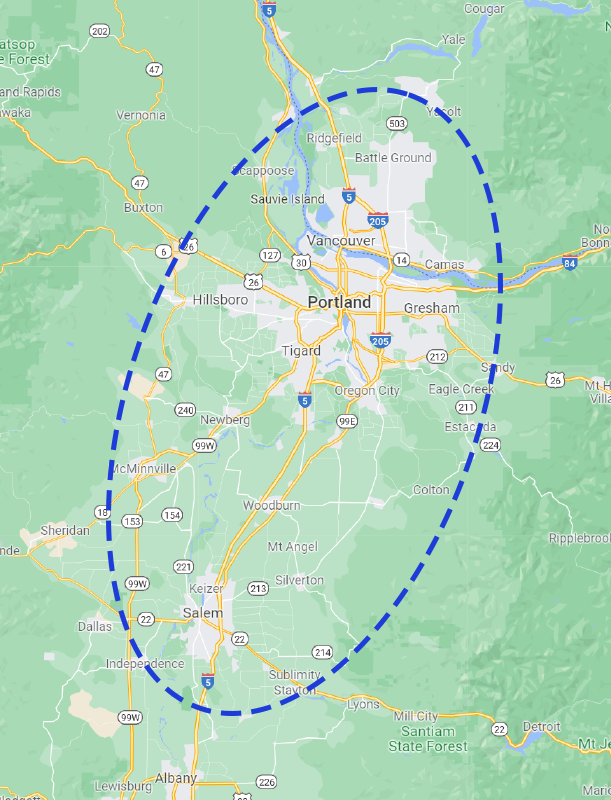 Proudly Serving the Portland Metro Area
Located in Tigard, Oregon, HOA Services proudly provides parking lot maintenance services in the Portland Metro area. From Cornelius to Troutdale and Wilsonville to Vancouver, we have all your full service grounds care covered.
Curious if we serve your city? Check the list of cities we serve below:
Clackamas

Gresham

Hillsboro

Lake Oswego

Milwaukie

Mt. Angel

Oregon City

Salem

Tigard

Troudale

Tualatin

Vancouver

West Linn

& More!

 
Looking for Other Repair Services?
Beyond our parking lot maintenance services, we also provide full service grounds care for apartment complexes, commercial retail centers, high-rise office and residential buildings, as well as multi-family residential condominiums in the Portland Metro area.
Our culture and our process put us ahead of the competition, from our exceptional management systems and outstanding organizational practices to our skilled employees and steadfast belief in accountability.
Whether you are looking for janitorial services, repairs, or maintenance, we are the people you trust with your property's maintenance.
Get An Estimate For Parking Lot Maintenance
HOA Services is the dependable lighting expert you can trust for both routine property-wide and per-outage or per-unit lighting services. Get in touch with our friendly account executives today to request a free estimate!
Drop us a line today
for a proposal!
Drop us a line today
for a proposal!
Victor [Repairs Foreman] did you all proud today, I was really impressed.  As a woman in business, I can say it is a pleasure to work with the gentlemen of HOA Services.  You have my sincere appreciation.
They are all really cool people who are nice and easy going. If I didn't like small things along my rebuild process, they fixed any issue I had. They put my cabinets and kitchen back together very, very well. I would use again for small things I have around the house.
The feedback I received this morning regarding the workmanship and attitude of James [Repairs Division Technician] was very positive.  They want to use you guys going forward for small maintenance issues.