Winter and Inclement Weather Services for Properties
Protect your property by preparing for winter weather with HOA Services
Here in the Portland, Oregon area, preparing for winter weather should be part of every property maintenance plan. Our partners rely on HOA Services to prepare for the season by winterizing buildings, inspecting for potential hazards, and maintaining building envelope integrity. Winterization Services are often requested on-demand to prepare for the season and can be scheduled throughout the year, as needed.
During inclement weather events that are common in the PNW, our technicians remove snow and ice, mitigating slippery conditions according to your property's Inclement Weather contract. We remove snow and ice from walkways, stairs, decks, driveways, and paths and spread ice melt or gravel to prevent slippery conditions.
Our Winterization Services
We offer on-demand building winterization services to help our partners get ready for the winter months. Our customers rely on us to restock winter supplies, inspect and make repairs to minor siding issues, insulate pipes and cover spigots, and weatherize doorways and windows. 
Ice Melt Inventory Restock
Some properties reduce slip & falls during the winter months by providing ice melt for property tenants and residents to self-service spread. We can stock your ice melt ahead of the season and even distribute buckets of ice melt for use in your common areas.
Prepare for the cold weather with our frozen pipe prevention service. Our technicians will inspect your building for exterior and uninsulated common areas with exposed pipes, spigots, and fixtures. We locate and insulate or cover all exposed areas of concern.
Weatherizing Windows & Doorways
Weatherizing windows and doorways can help reduce energy bills, keep out drafts, and minimize moisture intrusion. Our experts inspect windows and doorways and install weather stripping or temporary winter window coverings.
We inspect and document your roof's condition and make recommendations minimize leaks through the winter months. Inspections include seams in roofing materials, condition gutters, seals around chimneys & vents. At the time of inspection, we can also clean the roof and apply sealant or make minor repairs to shore up your roof's integrity.
If more extensive roofing repairs are needed, our repair pros will provide an estimate for immediate or future repair.
Building Siding Inspection
We inspect your building exterior and document the condition of your building siding, paying careful attention to windows and other areas where leaks are commonly found. We alert you to any gaps, wood rot, or leaks we find in your building envelope or any other issues with your siding.
If signs of water infiltration are found, our technicians can provide patch or temporary repairs until weather allows for full repair.
Lighting Inspection & Bulb Replacement
Our pros follow a map of your property to locate each fixture or pole light to ensure it is functioning. During the inspection, we replace bulbs, photocells, set timers, and take note of any issues we find.
If we find any lighting repairs are needed, an estimate is provided. Our lighting repair crews make minor lighting repairs, replace fixtures, or install new fixtures.
Why You Should Get Winter Services
Safeguarding property by preventing damage that inclement weather can cause and mitigating slip hazards to prevent injury are some of the top concerns we address for our partners.
Winter weather in the Portland Metro area can bring wind, ice, hail, sleet, rain, freezing rain, and snow creating slippery conditions for pedestrians. Our experienced crews monitoring your property by removing snow and spreading ice melt to keep your property safe from hazards.
When the temperatures dip, exposed pipes and spigots can freeze, which can cause them to break and burst. Any uninsulated areas inside your building with pipes or spigots, and any area outside exposed to the cold is at risk for freezing. Broken pipes can cause substantial and costly damage to property, which is why our partners rely on our expertise to winterize their buildings.
Snow & Ice Removal Services for Properties
When snow, ice, and freezing rain are in the forecast, our crews are standing by around the clock to shovel snow and/or spread ice melt before daytime foot traffic becomes a concern. We watch the weather and can provide on-site inspections of local property conditions. Here in the PNW, slippery conditions on property walkways, paths, stairs, and entry points can become a liability. We can help you prepare by stocking your property with ice melt and by responding to slippery conditions caused by winter storms.
We provide routine janitorial porter services with the option for snow removal services. Contact our office for an estimate today.
When to Begin Planning for Snow Removal?
Planning ahead for snow removal in September, October, and November ensures your property has coverage for snow removal services during the winter months. This ensures that when snow, ice, and freezing rain are in the forecast our technicians are standing by to respond.
The best way we can help properties prepare for the winter weather in advance is by providing you with a snow removal response plan.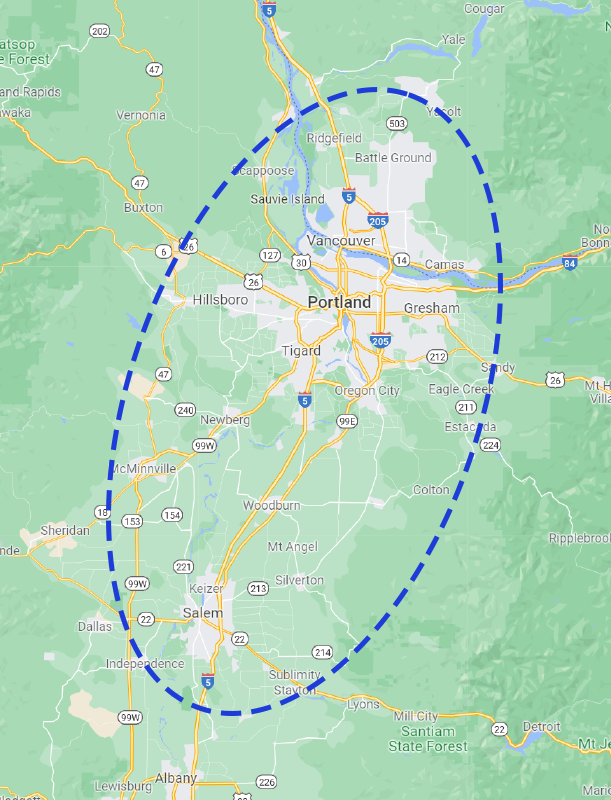 Proudly Serving the Portland Metro Area
We provide services within a large radius around the Portland, Oregon metropolitan area. Our service areas include the City of Portland, the West Hills, Beaverton, Hillsboro, South Hillsboro, Aloha, Tigard, N Portland, Gresham, Milwaukee, Oregon City, Wilsonville, and Vancouver, Washington.
We show up when you need us, and we document all our work so you can have peace of mind
Our pros know property services so we can spot hazards and prevent consequential damage
We build partnerships to last by exceeding your expectations on each visit
Comprehensive Maintenance Services
Get an Estimate for Winter and Inclement Weather Services
HOA Services is the partner you can depend on when winter weather is in the forecast. We safeguard your property from the elements providing an array of preventative and responsive services.
Don't wait until the winter months are here to find out how our winter weather services can meet your property's unique needs!
Drop us a line today
for a proposal!
Drop us a line today
for a proposal!
Victor [Repairs Foreman] did you all proud today, I was really impressed.  As a woman in business, I can say it is a pleasure to work with the gentlemen of HOA Services.  You have my sincere appreciation.
They are all really cool people who are nice and easy going. If I didn't like small things along my rebuild process, they fixed any issue I had. They put my cabinets and kitchen back together very, very well. I would use again for small things I have around the house.
The feedback I received this morning regarding the workmanship and attitude of James [Repairs Division Technician] was very positive.  They want to use you guys going forward for small maintenance issues.