Property maintenance services that extend the life of your building
Here in the Pacific Northwest, the rainy weather causes unsightly moss, mildew, and algae growth, which can not only cause damage to siding and concrete, but can also become a slip hazard. Because of these concerns, it is important to have your property pressure washed at least once a year, or more frequently to address problem areas.
Seasonally pressure washing the buildup of dirt and grime on exterior surfaces not only improves your curb appeal; you can add years of life to your building siding, stairs, walkways, common areas, parking lots, trash enclosures, and more with our professional pressure washing services.
The pros at HOA Service ensure your property is pressure washed utilizing commercial pressure washing equipment and following an efficient process to safely and effectively remove the buildup of organic materials, foliage, and debris.
Different areas and materials need different techniques and consideration. Some common areas that benefit from pressure washing services include:
Building Siding & Exteriors
Your exterior building siding material determines the recommended frequency and type of washing needed. Some wood and vinyl siding require soft washing, while some benefit from pressure washing.
Garage Cleaning
Whether your property has a single parking facility or per-unit garages, we can get the job done. Our pros notice problem areas and give spots, stains, and debris attention to ensure your garage is clean and sanitary.
Decks
Wooden decks are especially susceptible to the buildup of organic material due to the porous nature of the wood. Pressure washing your decks seasonally can prevent slippery conditions, mold, and dry rot.
Roofs & Gutters
Pressure washing your roofs and gutters removes organic buildup and debris, which can add years to the life of your building. Depending on your roofing and gutter material, pressure washing may be recommended by our pros.
Concrete
Over the years, the elements can wear down your concrete surfaces making inroads for the buildup of organic debris. These debris can further erode your concrete surfaces and should be pressure washed to maintain the integrity of your concrete.
Parking Lots
When your property's first impression is the parking lot, you need a professional to make sure your common area parking areas, curbs, driveways, and paths are clean and safe for vehicles and pedestrians.   
Sidewalks
Not only does seasonal pressure washing maintain the curb appeal of your property with sparkling sidewalks, walkways, and paths, but it also can prevent the slippery conditions caused by the buildup of organic debris.
Windows, Doors, & Trim
Pressure washing windows, doors, and trim can remove the buildup of debris on metal, glass, and wood areas which can prevent mold and dry rot. We can also pressure wash screens when removed from the window.
Stairs & Railings
Stairs and railings have many small areas where organic buildup can go unnoticed and lead to slippery conditions, mold, or even dry rot. Pressure washing the grime and debris from your stairs and rails can even prevent structural damage to these areas.
Moss
Here in Portland, Oregon we know about moss removal. Pressure washing your property's curbs sidewalks, and other hard surfaces where moss grows, safely and non-chemically, can prevent slippery conditions and trip hazards.
Trash Enclosures
Trash enclosures can become unsanitary, unsightly, and hazardous if left unwashed for too long. Depending on the traffic at your property, we will recommend a frequency for routine pressure washing.
Graffiti
When graffiti occurs on surfaces that cannot be painted or exposed to harsh cleaners, pressure washing can be highly effective in removing the graffiti without damaging the surface material. 
For Pressure Washing service, we gather the information for the request such as specific areas and material types. Sometimes one of our supervisors will come to your property and measure the areas in your request. Once the materials our crew will be pressure washing have been examined, our experts will recommend either hard or soft pressure washing techniques to ensure the washing gently cleans without damaging the surface.
On the day of the service, our crews arrive at your property, place safety cones, and systematically pressure wash the areas in the scope of work. Our technicians take photos before and after worked performed, they remove all debris from the cleanup, and leave your property sparkling.
Once your service is complete, your account executive will reach out to you with details of the work performed and close the job for billing.
Hard Pressure Washing
When cleaning your property's patios, decks, siding, walkways, and driveways, we use our self-contained hot and cold pressure washing system that allows for multiple technicians to pressure wash at once. This not only reduces the time it takes to complete the job, but also minimizes the use of chemicals.  
Soft Pressure Washing
Some siding, trim and fencing materials don't stand up as well to hard pressure, or there may be recommendations from the manufacturer on how to treat the material. In these cases, we use soft pressure washing techniques, which gently clean the surface and then we rinse away any residue and debris.
Pressure Washing

Services FAQ
Can you give me an estimate for pressure washing _______?
Estimates for pressure washing any area on your property can be part of your seasonal services, or we can come out for a one-time cleanup.
To deliver the most value to our partners, we recommend requesting an estimate to provide several routine services on each visit. Bundling services helps us give you the best cost-savings.
Whats a good time of the year to have _______ pressure washed?
We can help create a custom seasonal schedule for your property that accounts for your property's specific size and materials, its exposure to the elements, and its surrounding foliage. Generally, below the best time to schedule pressure washing:
Deck & Stair Washing: April – October

Exterior Pressure Washing: March – October

Building Siding Washing: March – October

Garage & Parking Lot: May – August

Roof & Gutter Pressure Washing: Twice a year! October – February

 

and

 

Late Spring after the foliage blooms
Our services are designed with you in mind. The extras we provide are available to all our partners:
Estimates
Project Management
Vendor and Subcontractor Coordination
Professional Reports
Photo Documentation
History of Work in Database
Proactive and Continuous Service
Estimates
Project Management
Vendor and Subcontractor Coordination
Professional Reports
Photo Documentation
History of Work in Database
Proactive and Continuous Service
Our Pressure Washing Process
You can rely on the pros at HOA Services to safely maintain the integrity of your building exterior by using only the recommended techniques for your property. Depending on the surfaces we are pressure washing, we will recommend hard or soft pressure washing techniques, or we can use a process that meets the manufacture's specifications.
Hard Pressure Washing for Flatwork, Exposed Aggregate, Retaining Walls, Decks, Railings, Fascia etc:
We pressure wash with our hot water trailer mounted pressure washer, taking care to avoid and document any areas blocked by personal property.

We rinse areas to prevent lingering residue from any cleaning solutions

We clean up all debris, remove it from the property, and dispose of it.
Soft Pressure Washing for Building Siding and Fences:
We apply the manufacturer-specified cleaning solution to the vinyl siding using a chemical spray trailer.

Using our trailer mounted pressure washer with an extended wand and extended scrub brush, we rinse and scrub vinyl siding, sometimes using low pressure depending on the material type and condition.

We clean up all debris, remove it from the property, and dispose of it.

Sometimes siding can become loose from cleaning due to its condition. We will repair issues like that.

To avoid damage to siding heavy staining may not be able to be completely removed. We get the best result possible without adding the costs of replacing damaged materials.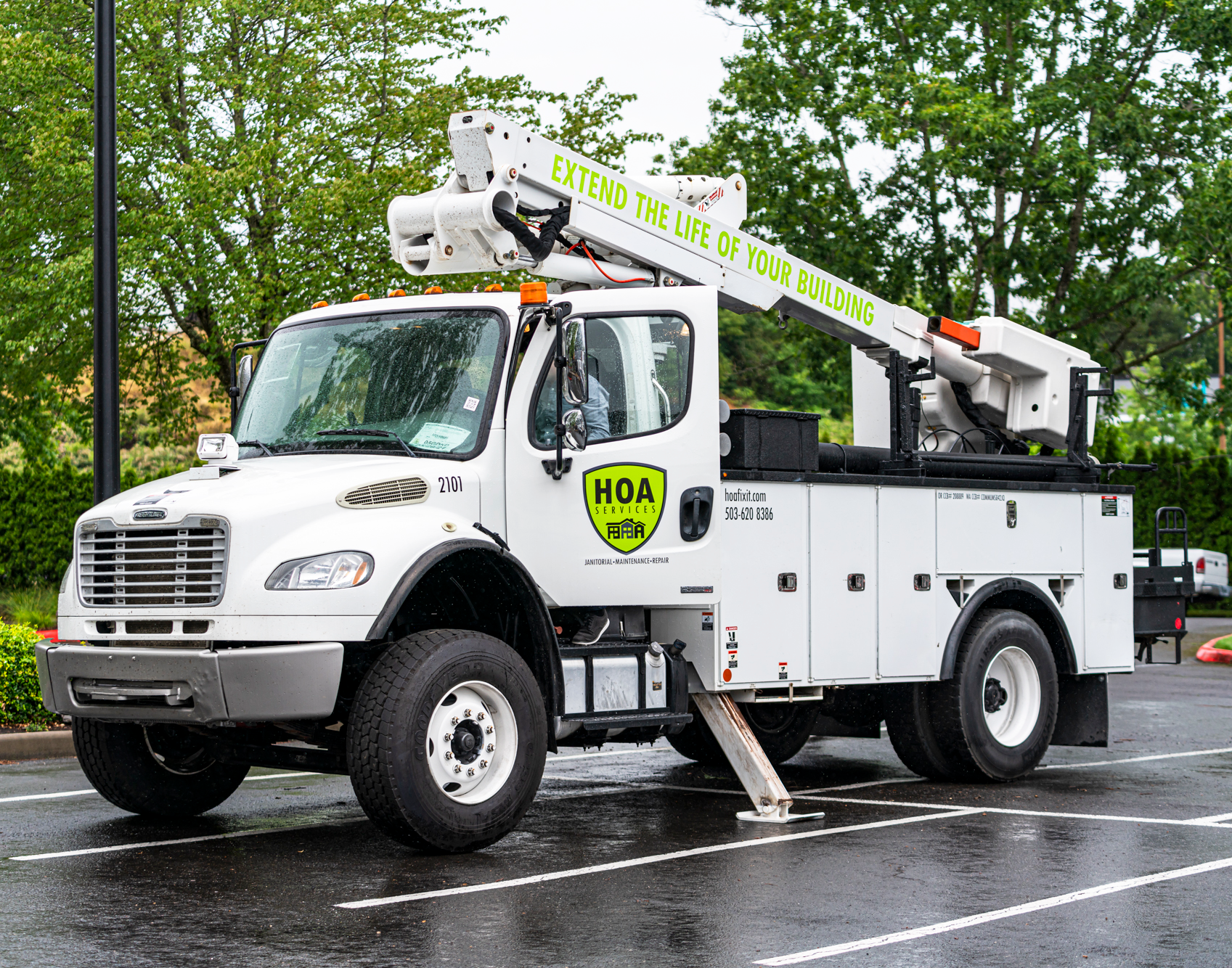 Comprehensive Maintenance Services
Pressure washing is just one service we offer to our partners. Common property maintenance services include routine pressure washing, seasonal roof and gutter inspection and cleaning, crawl space and basement inspection, light check and replacement, grounds maintenance, graffiti removal, gate & door adjustments, and more!
Our residential and commercial partners love us because we provide a complete managed solution for maintaining each property in your portfolio. We can help community managers, property managers, and board members to set up routine schedules for janitorial or maintenance services and provide on-demand maintenance and repair services. Each project is managed by our experts, so you know you can trust the results.
Contact Us For Commercial Pressure Washing
HOA Services has safely pressure washed millions of square feet for our partners over the years. The longer you partner with us, the more we get to know you and can provide a customized managed solution to help you protect your investment. By routinely maintaining the common area structures and grounds that make up your unique property, you can extend the life of your building.
We take pride in offering a complete suite of janitorial, maintenance and repair services to meet the sanitation, cleanliness, and hazard mitigation needs of your unique property.
Contact us today for a free estimate!
Drop us a line today
for a proposal!
Drop us a line today
for a proposal!
Victor [Repairs Foreman] did you all proud today, I was really impressed.  As a woman in business, I can say it is a pleasure to work with the gentlemen of HOA Services.  You have my sincere appreciation.
They are all really cool people who are nice and easy going. If I didn't like small things along my rebuild process, they fixed any issue I had. They put my cabinets and kitchen back together very, very well. I would use again for small things I have around the house.
The feedback I received this morning regarding the workmanship and attitude of James [Repairs Division Technician] was very positive.  They want to use you guys going forward for small maintenance issues.