Commercial Building Lighting Maintenance Services
Your property shines with our lightbulb replacement and lighting repair services
Here in the PNW, our region can have longer nights throughout the winter months, putting more hours of use into each of your lighting sources. Our lighting services ensure your property maintains safe and well-lit public and common areas.
Our most popular lighting service is a routine inspection of the fixtures which includes testing and bulb replacement. We also source and match light bulbs, photocells, batteries, and fixtures.
While many times a bulb replacement is all that is needed, if a light bulb doesn't have power after testing, our pros investigate the source of the lighting problem and recommend a solution.
Our Lighting Maintenance Services
We offer a wide range of low-voltage lighting services to address a single outage, and we manage more extensive light repair projects that require an electrician subcontract.
Our experts work with most fixtures and bulb types replacement services for per-unit, per fixture, and property-wide lighting maintenance services.
Light Bulb Replacement
Using a detailed map of your property's light fixtures, technicians carefully remove and replace light bulbs that have burnt out anywhere on your property. We test photocells to make sure new light bulbs shine brightly.
Lighting Diagnosis
When lighting fixtures aren't working properly, our pros get to the source of the problem with a few diagnostic tests. We can replace most existing fixtures, poles, and bulbs, matching specifications of your property's fixtures.
Parking Lot Lighting & Poles
We work with all different types of light posts and bulbs, including HID and LED lighting. Our specialized boom truck is deployed for most light pole and some exterior building lighting services, ensuring you receive safe and efficient care for even the tallest lights.
Exterior Lighting Repair
Exterior lighting enhances the unique features of your property, until there is an outage. We investigate and repair exterior lighting including sign lighting, path lighting, fountains, and other exterior fixtures.
Indoor Lighting Fixture Installation
In most lighting installation projects, we remove the existing light fixture and re-install a new or repaired fixture in the same location. Installing light fixtures that need wiring usually requires an electrician – which we can subcontract for you!
Exit Signs, Smoke Detectors & Carbon Monoxide Alarms
We test and investigate problems with faulty smoke detectors, carbon monoxide alarms, and lighted egress signs. Lighting repair technicians safely remove, repair, and install detectors, alarms, and lighted exit signs.
Door Access Security Systems
When your door access system isn't functioning properly, your whole property can be affected. Our pros diagnose, repair, and install doorbells, intercoms, keypads, and other door access security features.
Appliance Installation
We install low-voltage appliances like air conditioners, garbage disposals, microwaves, dishwashers, laundry machines, TVs, and more!
Types of Buildings We Service
HOA Services provides quality property maintenance services to multi-family residential condominiums, homeowners associations, apartment complexes, commercial retail centers, shopping plazas, and business park common areas.
Our comprehensive janitorial, maintenance and repair services cover your building's upkeep needs from top to bottom, delivering a complete property maintenance solution to our partners.
Property-wide light bulb replacement services are often scheduled on a routine basis to address burned out bulbs using a detailed map of your property's light fixtures. The frequency of bulb replacement depends on the type of lighting fixtures and bulbs on your property. Typically, we recommend bi-annual light bulb replacement services in the fall and spring months, but more frequent replacement may be necessary in high-traffic and public areas.
Both exterior entryway lights are out, which may indicate that there is an issue that needs repair
The lighting repair technician documents the fixture before removing it to investigates the outage
The utility box is inspected and curcuits are tested for power
A wiring issue is found and repaired
With the wiring issue repaired, both lights are shining brighly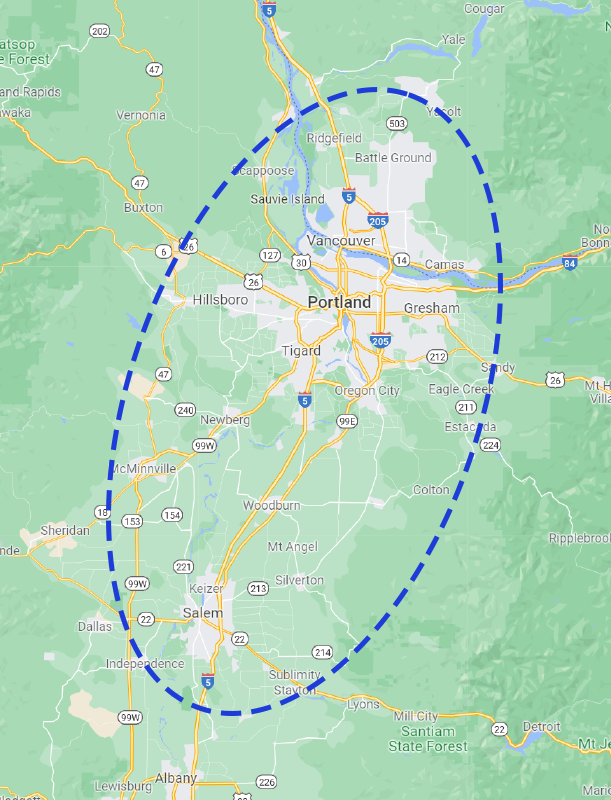 Proudly Serving the Portland Metro Area
Our Portland metro service area covers our partners in Wilsonville, North Portland, Gresham, Downtown Portland, Beaverton, Tigard, Aloha, Hillsboro, Cornelius, Vancouver, Washington, and everywhere in-between!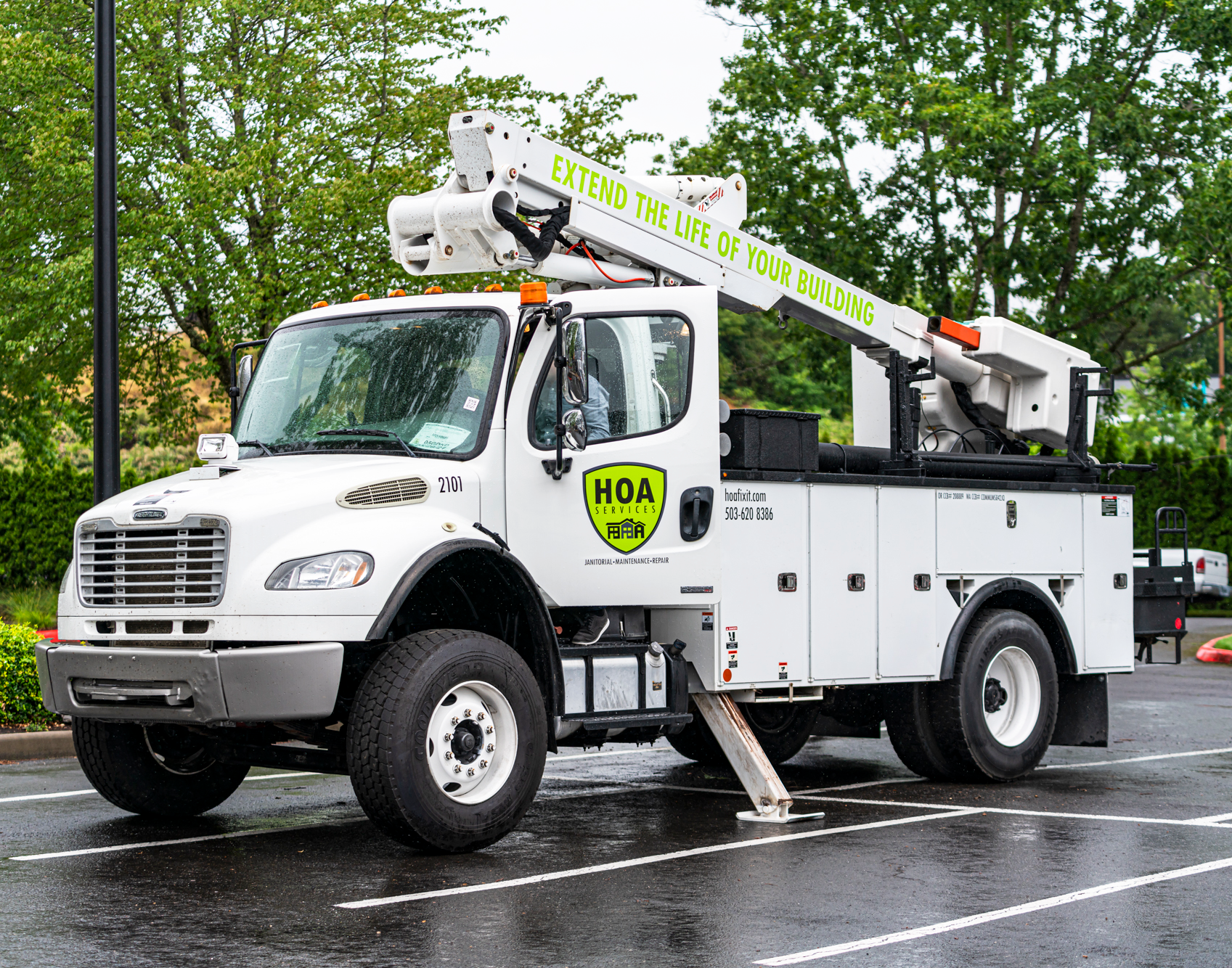 Looking for Other Repair Services?
HOA Services offers comprehensive property services to meet your needs for janitorial, maintenance, and repairs. Our partners save time and reduce the cost of each visit by bundling multiple services at once.
Our wood rot repair services for siding, decks and trim ensures your building's exterior, structure and curb appeal are all in top form. We offer property-wide targeted repairs or can address a single area.
Get An Estimate For Lighting Services
HOA Services is the dependable lighting expert you can trust for both routine property-wide and per-outage or per-unit lighting services. Get in touch with our friendly account executives today to request a free estimate!
Drop us a line today
for a proposal!
Drop us a line today
for a proposal!
Victor [Repairs Foreman] did you all proud today, I was really impressed.  As a woman in business, I can say it is a pleasure to work with the gentlemen of HOA Services.  You have my sincere appreciation.
They are all really cool people who are nice and easy going. If I didn't like small things along my rebuild process, they fixed any issue I had. They put my cabinets and kitchen back together very, very well. I would use again for small things I have around the house.
The feedback I received this morning regarding the workmanship and attitude of James [Repairs Division Technician] was very positive.  They want to use you guys going forward for small maintenance issues.