Commercial Building Floor Power Washing and Scrubbing Services
Property maintenance services that extend the life of your building
When it comes to power washing services here in the pacific northwest, HOA Services is the name you can trust for the highest quality results. Power scrubbing most foot-traffic areas, which are often accessed by the public and tenants, is a key part of any property maintenance plan to prevent slippery conditions on walkways, parking areas, and trash enclosures.
Our property maintenance experts can tackle any tough mess, ensuring your property is clean, sanitary, and safe. As the technical experts, our building maintenance technicians are experienced, and will use the recommended cleaning method for each type of material that is being cleaned.
Our power washing and scrubbing services addresses the needs of our commercial and multi-family residential partners by providing both on-demand power washing to address a specific area, or pre-scheduled, periodic service.  
Power washing, or floor scrubbing, can remove tough grease, oils, and discoloration on hard-surface flooring from algae, moss, or other organic buildup. By using professional powered scrubbing equipment, along with heated, high-pressure water flow, and degreasing agents when needed, our technicians can clean up even the worst spills and messes.
For tough spills in trash enclosures with restaurant grease or other oils, technicians will first use a binder to safely absorb the spill. Technicians use a combination of techniques, including power floor scrubbing, pressure washing, and manual debris removal to clean each area safely and effectively.
On the day of the service, our crews arrive at your property, place safety cones, and systematically power wash the areas in the scope of work. Our technicians take photos before and after photos, remove all debris from the cleanup, and leave your property sparkling clean.
Our Complete Power Washing and Scrubbing Services
Our technicians follow an efficient and thorough cleaning process to scrub away even the toughest messes. Certain surface areas and materials require careful cleaning techniques and consideration, which is why you need a professional with cleaning expertise.
Trash & Dumpster Enclosures
Pollutants from waste, including chemicals and grease, can build up if dumpster enclosures are not cleaned frequently. We can schedule a one-time clean up or set up routine maintenance.
Restaurant Grease & Oil Spills
When restaurant grease is not properly disposed of, grease spills can become an unsightly hazard on your property. Our crews are trained to properly clean and dispose of pollutants and debris.
Outdoor Dining & Event Cleanup
Over the summer months, grease, oil, and other pollutants can discolor untreated concrete and masonry. Floor power scrubbing safely and effectively addresses all cleaning needs in these areas.
Garages & Parking Structures
Garages are another area where oily pollutants from vehicles can build up on flooring surfaces. Power scrubbing and washing can address a single garage, or provide a cleanout for your entire parking structure.
Sidewalks & Walkways
Here in the PNW, preventing slippery conditions means vigilantly maintaining surfaces which are exposed to the elements. Protect your investment with a routine power scrubbing schedule.
Parking Lots
Is your parking lot green with moss, mildew, and other organic material? Our power scrubbing and washing services will reclaim your parking areas, leaving them looking like new and improving your curb appeal.  
Retail Storefront Walkways
Your commercial retail property is open to the public and should represent your commitment to cleanliness and safety. Our power washing services make sure your storefronts are ready for foot traffic.
Moss Removal
Over time and with exposure to the elements, foliage and moss growth can take over curbs and walkways. We remove the organic buildup, thoroughly power wash the area, and dispose of any debris.
Power washing can be scheduled for a one-time on demand cleaning of any areas that need attention.
We also offer routine preventative maintenance services for power washing and floor scrubbing, which helps our busy partners stay on schedule to prevent hazards.  
For some high-traffic commercial areas, routine maintenance includes monthly or quarterly deep cleaning for problem areas.
Recent Power Washing Projects
Our technicians follow an efficient and thorough cleaning process to scrub away even the toughest messes. Certain surface areas and materials require careful cleaning techniques and consideration, which is why you need a professional with cleaning expertise.
Proudly Serving the Portland Metro Area
HOA Services provides the highest quality floor power washing and cleaning services found in the PNW for your commercial and multi-family residential properties. We offer services in the greater Portland metropolitan area, including Clackamas, Gresham, North Portland, Beaverton, Hillsboro, Tigard, Aloha, Lake Oswego, Milwaukee, Wilsonville, and everywhere in-between.
Why use HOA's Floor Scrubbing Services?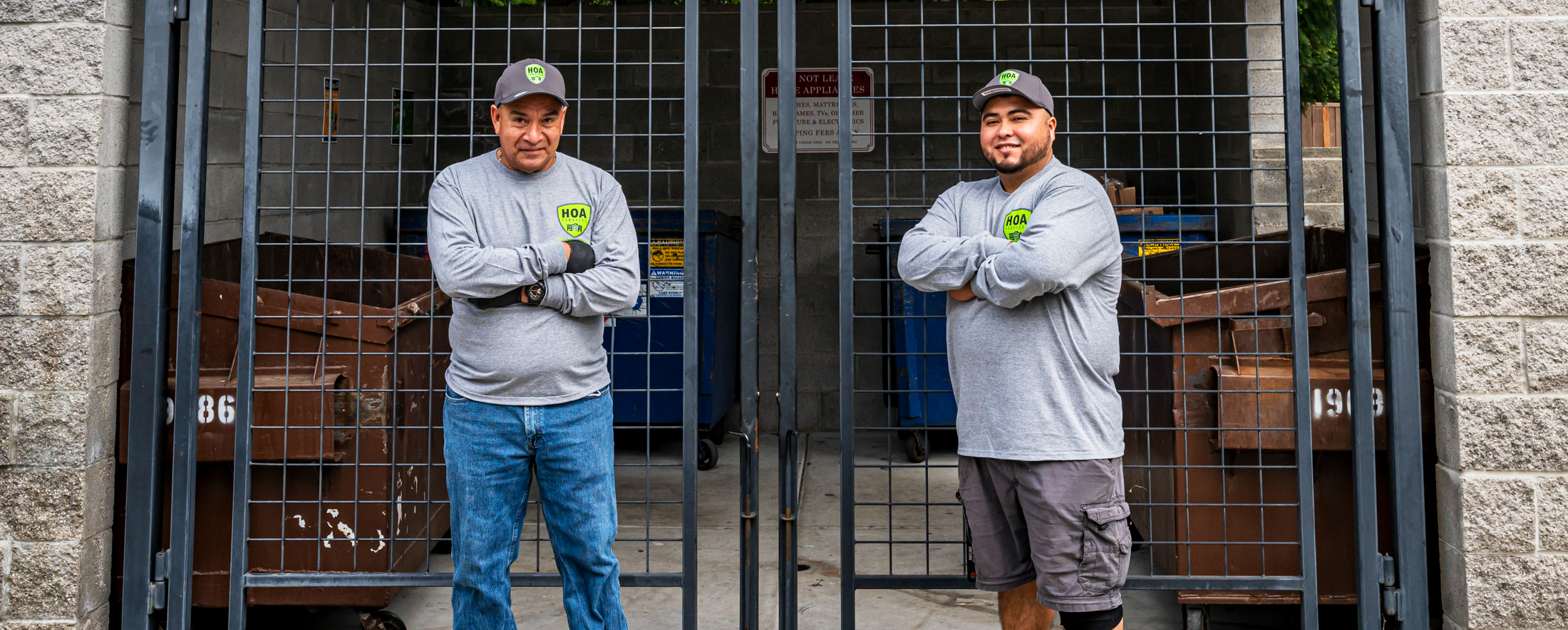 We show up when you need us, and we document all our work so you can have peace of mind
Our pros know property services so we can spot hazards and prevent consequential damage
We build partnerships to last by exceeding your expectations on each visit
Looking for Other Property Services?
Our residential and commercial partners love us because we provide a complete managed solution for maintaining and repairing each property in your portfolio. We can help community managers, property managers, and board members to set up routine schedules for janitorial or maintenance services and provide on-demand maintenance and repair services. 
Each service is fully managed by our experts, so you know you can trust the results.
Contact Us For Commercial Building Power Washing & Floor Scrubbing Services
HOA Services has safely power washed millions of square feet for our partners over the years. The longer you partner with us, the more we get to know you and can provide a customized managed solution to help you protect your investment. By routinely maintaining the common area structures and grounds that make up your unique property, you can extend the life of your building.
We take pride in offering a complete suite of janitorial, maintenance and repair services to meet the sanitation, cleanliness, and hazard mitigation needs of your unique property.
Drop us a line today
for a proposal!
Drop us a line today
for a proposal!
Victor [Repairs Foreman] did you all proud today, I was really impressed.  As a woman in business, I can say it is a pleasure to work with the gentlemen of HOA Services.  You have my sincere appreciation.
They are all really cool people who are nice and easy going. If I didn't like small things along my rebuild process, they fixed any issue I had. They put my cabinets and kitchen back together very, very well. I would use again for small things I have around the house.
The feedback I received this morning regarding the workmanship and attitude of James [Repairs Division Technician] was very positive.  They want to use you guys going forward for small maintenance issues.