Property maintenance services that extend the life of your building
Our skilled property maintenance technicians help keep your buildings and grounds safe and healthy. Partnering with our professional team for high quality maintenance services will ensure your property, facilities, and grounds are not only well-maintained but also continue to last for many years to come. Whether you're looking for a seasonal partner or on-demand building maintenance, you can count on the experts at HOA services to use the best industry protocols and equipment with meticulous detail.
Our maintenance experts use a proven process that starts with your property's unique seasonal maintenance needs. For routine property maintenance, an account executive will help you customize a suite of services using an annual calendar, and assist you with managing your routine property maintenance needs. Routine maintenance services include pressure washing, roof and gutter inspection and cleaning, building siding washing, graffiti removal, crawl space and basement inspection, light check and replacement, grounds maintenance, and more.
We also perform on-demand maintenance requests offering you an array of other services to meet your property's unique needs.
Seasonal Building Maintenance
Seasonal building maintenance is a priority here in the Pacific Northwest, with roof & gutter cleaning and pressure washing at the top of the list for our most requested property maintenance services. Each season brings its own challenges, but when you partner with HOA Services, we will help you manage your complete property maintenance needs. Not all properties are alike, but some common seasonal services are recommended below to extend the life of your building.
Our Building Maintenance Services
HOA Services provides an array of property maintenance services to meet your property's unique needs:
When you partner with HOA Services, you gain access to a property services team that will help you maintain every aspect of your property.
Our experienced team uses a managed process to ensure that you receive the highest quality service from beginning to end.
Our service extras make it all a little bit sweeter and include:
Estimates
Project Management
Vendor and Subcontractor Coordination
Professional Reports
Photo Documentation
History of Work in Database
Proactive and Continuous Service
Emergency After Hours Service
Trained and Experienced Technicians
Professional Equipment
Debris Disposal, Dump Fees, Recycling
Procuring Supplies and Materials
Our Commitment to Health & Safety
Emergency Maintenance Requests
Our partners can rely on HOA Services to dispatch our experienced on-call Technicians to your property when needed, even on holidays and after hours. We can help with securing your property after damage or break-in, water intrusion mitigation, and even vendor coordination if more help is needed.
While maintenance services maintain the ongoing condition of your building, sometimes our technicians notice when repairs may be needed. When our technicians spot areas of concern or potential hazards that you need to know about, we communicate these to you by providing an estimate for repair.
If you have a repair concern, most services will start out with an estimate for repair services. Our experienced tradespeople will measure, look at safety conditions, research materials, and provide you with a repair solution to meet your property's needs.
Common repair services include roof and siding water intrusion or rot repair, deck and handrail rot repair, attic remediation, lighting repairs, fence and gate repairs, door adjustment and install, drywall repair, exterior and interior painting, small concrete grinding and repair, and trim and fixture installation.
Why Choose HOA Maintenance Services
You can trust HOA Services to do the job the professional way, with the right tools, used by our trained, bonded, and insured technicians. As with all our work, we're proud of what we do, so we photo document your job so that you can trust it's done right.
We provide HOA Maintenance Services, serving Multi-Family Residential High Rises and Complexes, Apartments, Commercial Maintenance, Retail Centers, and any other types of properties that require common area maintenance and grounds maintenance.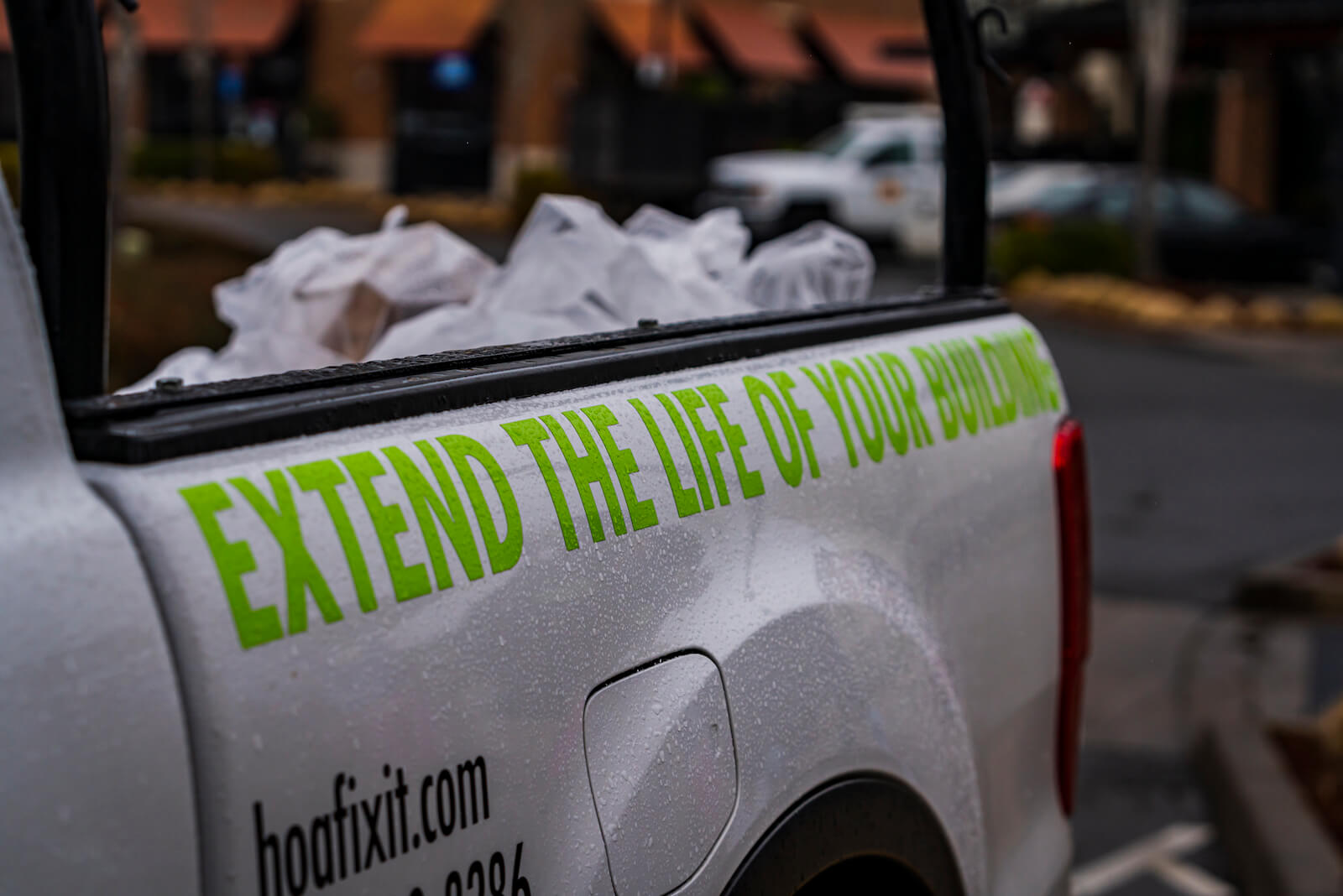 Can you give me an estimate for a service I need?
We can! And we can deliver the most value to you if we can estimate and schedule several routine services. Looking for an estimate for pressure washing your walkways? Have us include your vinyl fences and trash enclosures. Bundling services helps us give you the best cost-savings.
I have some small Maintenance tasks, can you help me?
We can! We provide On-Demand Maintenance Services for our clients. This is like the Maintenance version of a Handyman Service. We can remove debris, clean and disinfect common areas, change light bulbs, move signs, jet a troublesome downspout, and any other small Maintenance task that arises. We typically complete these tasks within 1-2 days of receiving your request.
Whats a good time of the year to have _______ service done?
We can help create a custom seasonal schedule for your property that accounts for your property's specific size and materials, its exposure to the elements, and its surrounding foliage. Generally, the best time to schedule some of our most common services are:
Deck & Stair Washing: April – October
Pressure Washing: March – October
Siding cleaning: March – October
Garage & Floor Scrubbing: May – August
Roof & Gutter Cleaning: Twice a year! October – February and Late Spring after the foliage blooms
Dryer Vent Cleaning: July – October
Crawlspace Remediation: November – February
Non-routine Light Check Services: October – February
Drop us a line today
for a proposal!
Drop us a line today
for a proposal!
Kudos to the team [Janitorial] on doing a great job at being the eyes and ears for [us] and notifying us of issues that violate tenant covenants.  Thank you for your continued effort and teamwork in managing our centers.
Wanted to send along a note on how happy we have been with Nonie [Janitorial Division].  She was trained for our building by Lisa and that set a very high bar but she has been wonderful to have around and is very thorough.  Thanks for sending her our way!
HOA Services makes my life as a community manager so much easier. They are a one-stop shop for all maintenance needs. The response time is impeccable, and in most cases is immediate. If a request is out of their wheelhouse, they will let me know very quickly and also provide advice on the correct type of vendor to contact. Eric Doyle has been especially helpful in creating healthy relationships with many of my communities, and providing practical feedback for long-term planning.
HOA Services performs regular janitorial service at one of my large condominiums, and provides immediate feedback when issues are found. The keen eye for detail all technicians have is very helpful. HOA Services has worked on my entire portfolio, form roof cleaning, dump runs, gutter cleaning, and dryer vent cleaning, without any complaints. My homeowners always say the crew is very respectful and courteous.